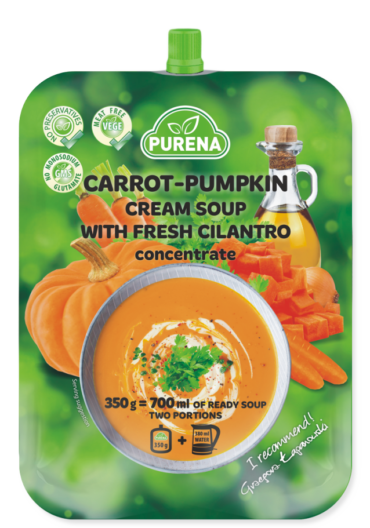 CREAM CARROT-PUMPKIN SOUP with fresh coriander, concentrated
Composition of excellent flavors: sweet carrot and delicate pumpkin, spiced up with fresh coriander, pinch of sea salt and black pepper. We created delicious and aromatic cream soup, with no sugar, preservatives, starch. Our soup can be prepared in 30 seconds, and natural taste can be enjoyed all year round – not only pumpkin season!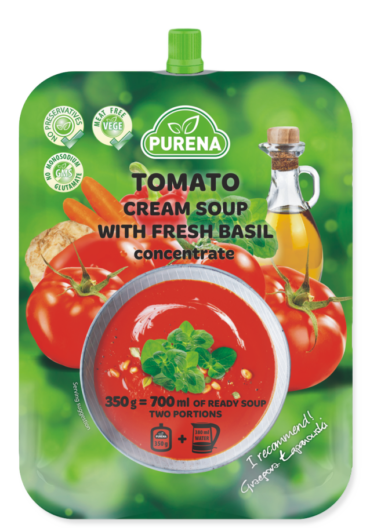 CREAM TOMATO SOUP with fresh basil, concentrated
Traditional tomato soup with rice or pasta? Maybe thick tomato cream or italian gazpacho? It is Your decision, what can be created with our concentrated soup, full of juicy tomatoes, fresh basil and olive extra virgin. Made from natural ingredients of high-quality, with no sugar, preservatives, and thickeners added, it will be perfect for both adults and children!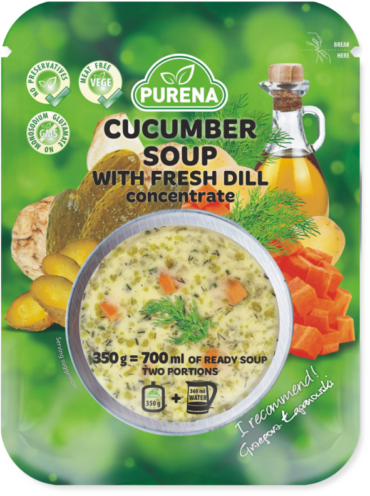 CUCUMBER SOUP with fresh dill, concentrated
Cucumber soup is definitely one of the traditional polish soups! We added fresh dill, which gives to whole composition unique flavor. Dinner served with our cucumber soup, will take You back to the best home-cooked meals. With no sugar, preservatives or thickeners – tasty and natural.